Here at Blueline Manufacturing Company Inc., we specialize in designing and building equipment for the orchard and vineyard industry. We also build custom and specialty items unique to your operation that are not currently in production.
We manufacture custom equipment that greatly improves the quality, pace, production and safety of normal tasks found on your orchard or vineyard. Our products are designed to deliver significant cost-savings in labor, fuel, and expensive chemicals.
We are also Blueline Equipment Company LLC, an agricultural equipment dealership that represents over ten lines of agricultural equipment in six retail locations throughout central and eastern Washington.
We are authorized dealers for Kubota, Gregoire, Binger/ERO, Perfect, Land Pride, Argiles, Revo, ORSI, Whatcom, Braun, Kawasaki, Walker, Honda consumer products, Stihl, and Traeger.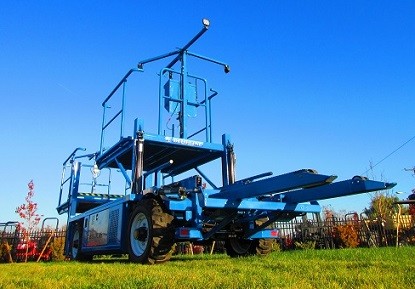 Now is a great time to check out the New Blueline OPH100N narrow orchard platform.
Call today to schedule a demo!